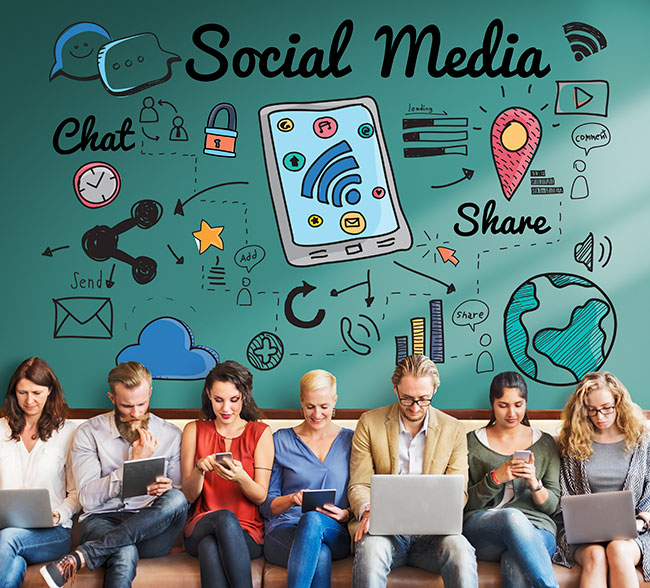 Social Media Marketing Services
Reach a wider audience faster. We redefine and build your brand's online reputation via social media conversations. We help you to develop a strong customer base through demographic research and knowing the direct needs of your customers.
Rapidly headline your business through highly targeted social media campaigns to achieve your goal of increased sales.
Your brand will become the talk of the town through our unique conversation starters, well-planned content calendars, and creative marketing campaigns.
You won't get lost in the crowd with our data-driven analytics that regularly tracks and monitors your campaign effectiveness.
Be social. Look lively. Create a buzz around your brand that will bring back loyal customers time and time again.
3 Easy Steps to Building a Social Media Profile
Audit
We assess what your competitors are doing and do it better.
Strategy Development
We grow your fan base by knowing what and when to post. Engagement equals conversions.
Monitor & Analyse
We monitor and assess your campaign. We keep you in the loop with customised reports. What more could you want?
5 reasons to use AdRank as your Social Media Marketing Agency
You've setup a Facebook or Twitter page because your competitors have but you don't know what to post and how to get new fans.
You're an established business, you've got a small fan base, but you struggle to commit resource to keeping it up to date. Your fans don't engage that much so you want help, strategy and ideas to make social work for your company.
You're a big brand, you've got a massive fan base and they engage well but you want to get everyone talking about you. You've seen other big brands have big viral success and you want to know how.
We're experts in social media and understand the fine details of each social platform including Facebook, Twitter, Instagram and LinkedIn.
Most importantly, while we help you talk to your fans in the form of social posts, we like to talk to you regularly either in person or on the phone to have a real conversation with you about how the business is doing, how you are, and how we can use social to help you achieve your business objectives.
contact us
Book a FREE 30 MINUTE Strategy Call